Post by Thundercracker on Jan 2, 2020 21:38:51 GMT
Player Alias:
Thundercat
Character Name:
Thundercracker
Allegiance:
Decepticons
Appearance Description: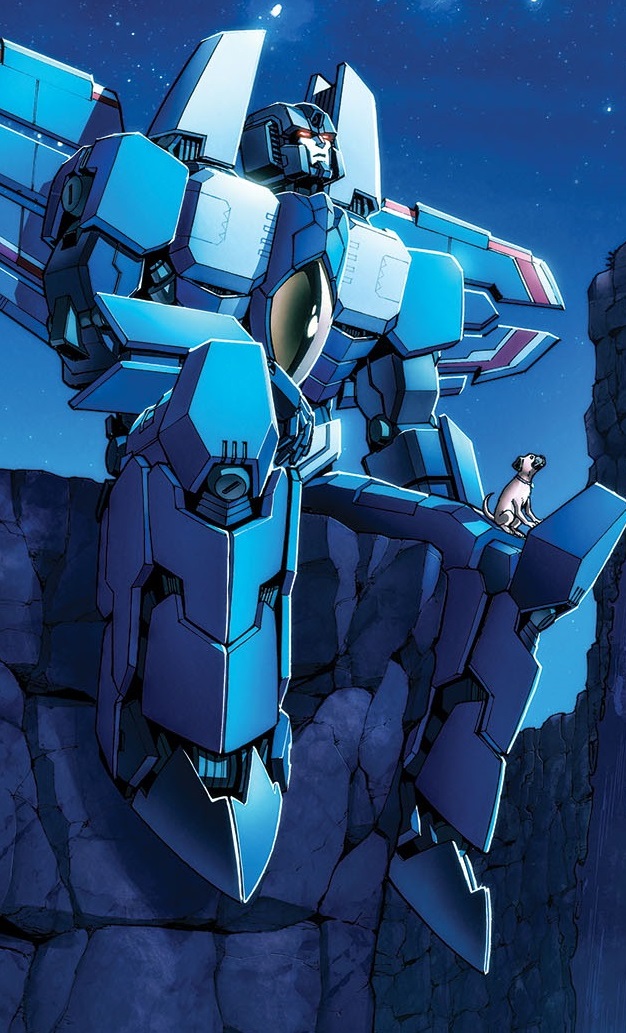 Personality:
There's not much to be said about someone like Thundercracker. A straight forward, no-nonsense sort, Thundercracker has no qualms about making his voice heard nor giving his opinion. Quite frankly, he is surprisingly out-spoken but rarely obnoxiously so. Compared to a majority of seekers in Megatron's armada, he is surprisingly more humble and easy-going and has been known to have a rather dry sense of sarcasm and humor, which is probably why he gets along decently with his trinemates. Thundercracker always prefers to think by logic, caution, and analysis, and cares little for maintaining his appearance for the sake of beauty or looking good as he has seen with many of his Seeker kind.
What makes Thundercracker stand out the most between himself, Starscream, and Skywarp is that Thundercracker displays himself to be the voice of reason. He has a far calmer attitude than his commander or long-time friend, being the one that advises strategy and caution, or keeps his head on right under pressure. With such a level head and calm disposition, it might come off as odd to find that Thundercracker does have something of a twisted sense of humor and does enjoy pranking others alongside Skywarp, making him sometimes a person to avoid when the two are together. But for the most part, he is the focused sort that tends to keep his friends on the task at hand and keep from going too far in serious situations.
But, there is no denying that Thundercracker is stubborn, rarely being persuaded from a different frame of mind or changing his decisions. This is most evident in not taking pleasure in the violence war has brought and the disapproving looks he gives to many of his Decepticon brethren. Truth be told, though usually a most loyal friend, it only goes so far. He would much prefer to study the many fascinating planets, life, and other organisms over causing their destruction, his travels having slowly expanded his scientific interests and come to his own conclusions about his kind. So, it's only a matter of time before Thundercracker finds his limit in this bleak, seemingly unending war.
Strengths:Flight:
With being a Seeker, Thundercracker has the advantage of flight on his side. High altitudes and aerial maneuvers allow Thundercracker to keep distance between himself and others for offensive and defensive attacks, giving him considerable maneuverability, agility, and speed in the air, and sensitive sensors that not only help him navigate the skies and certain areas, but pick up disturbances to some degree. An ace flier, Thundercracker is considered one of the most elite of fliers to the point of being on par with Starscream
Strategic/Ingenuity:
Though his days as a scientist are long gone, his intelligence remains in which he puts forth towards combat or other situations. Though flight is where he thrives, Thundercracker is capable of adapting battle tactics and using his environment or equipment on hand, sometimes juryrigging something together when the need arises.
Long-range Weapon Proficiency:
Given his need to use flight and distance the most, Thundercracker has trained to learn short- to long-ranged weaponry, being just as capable of using a simple pistol to a rocket launcher or even a turret if necessary. This proficiency extends to knowing how to assembly and dissemble these weapons, or making one from spare parts of necessary.
Stubborn:
Perhaps the second thing next to his ingenuity is that Thundercracker is extremely stubborn. He sticks to his beliefs and his choices, and can be a difficult opponent to shake in the heat of battle. He rarely backs down when his mind is made up and unless the need calls otherwise rarely cracks under pressure.
Weaknesses:
Somewhat Light Frame:
Given his Seeker frame, Thundercracker's form does suffer from being thinner and lighter than most in favor of making him more agile and maneuverable, especially in the sky. As a result, he doesn't particularly do well against heavy artillery or stronger opponents which can tear through his armor if he isn't careful. Although he is a bit stronger than the average seeker, this isn't saying much to his durability as a whole.
Long-range preference:
Thundercracker is specially trained to use short- to long-range weaponry, especially given that much of his fighting style relies on flight and distance. This can leave Thundercracker open to other distance fighters or for others to have a chance to get in close and personal to attack. This is even more evident given that this seeker only uses one melee weapon or has to improvise melee weapons.
Flight:
Though an advantage, flight can also play against Thundercracker. In particular, if his wings are damaged severely, the number of sensors can cause him to become paralyzed or freeze up due to pain or the loss his wings at all could ground him or throw him off balance. The same can be said if Thundercracker lost his thrusters, which could prove crippling overall to lose them or his wings. His favor of flight also does limit some environments he can move about in.
Shifting loyalties:
Though usually quite loyal, Thundercracker will not be afraid to know when to back out of something that goes against his beliefs or express a lack of faith in something. His sometime blatant shift in loyalty does prove a liability for allies or himself, sometimes making him a target for those who view him as finicky and untrustworthy at times.
Abilities: Sonic Booms:
Thundercracker has an outlier ability to create sonic booms when in his jet mode. These sonic booms are strong enough to disorient and shake up targets, shatter glass, and create a distraction. His ability isn't exactly spectacular but in a pinch serves his allies well to get a quick advantage.
Sawback
: During the later days of the war, Thundercracker came across a once Autobot-aligned Minicon whose partner was killed at some point. Seeing the Cybertronian canine in need of assistance, he took the buzzsaw minicon in to nurse back to health and has since bonded with it. The two are inseparable and Sawback has become Thundercracker's eyes and ears on the ground, a personal tracker, and an assistant in and out of combat.
Weaponry: Electro Ion Blaster (x2):
Replacing his null-rays, Thundercracker has two rapid fire mini-machine guns that shift out from his arms to fire electro bolts that do physical damage and overload the inner circuits.
Thunderclap Sonic Blaster:
Largely considered illegal, Thundercracker got his hands on this shoulder mounted weapon later in the war after the exodus. The weapon is a sonic disruptor weaponized to use high frequencies against a target but has been heavily modified to weaponize his ability to create sonic vibrations against a target or targets or can be used at a wider range to create miniature earthquakes. Being more concentrated, this can weaken defenses and cause internal and external damage in a Cybertronian on top of heavily disorienting a target.
V32. Cyber Corruptor:
A weapon resembling a slim rifle, it can be a nasty weapon in the hands of someone such as Thundercracker. The weapon has a specialized bullet with a Destruction chip virus that takes over a target, corrupting them for about one to two minutes to attack their own comrades.
Heat-seeking Missiles (Vehicle mode):
Aside from his sonic booms, Thundercracker makes use of missions under his wings that follow heat signatures of targets and explode on contact.
Electro Short Sword: When in need of going hand-to-hand, Thundercracker uses a short sword often kept at his side with additional feature of the sword being electrified to wreck havoc on a target's system, sometimes frying circuitry or paralyzing a foe.
History:
Thundercracker was a citizen of Vos who was constructed cold when he came online.

Shortly after coming online, Thundercracker found himself drawn to the world of science and chemistry, at first working as part of the city of Vos' science department alongside several others. However, his research would eventually carry him to working on the Trypticon Orbital station where he came to work directly under Air Commander Starscream and met his best friend, Skywarp. Overtime, the two not only became colleagues but also formed a trine, being seen as some of the most elite fliers among the station's crew. As a scientist assigned here, Thundercracker found much of his focus towards energy sources, even being there to witness the many tests and experiments with dark energon.
Unfortunately, these experiments caused the loss of much of the station and drew the attention of the Decepticon leader himself, bringing the Decepticons to the station. Upon the Decepticons successfully invading, Thundercracker was left with little choice but to follow the example of his leader Starscream when the Air Commander chose to throw his support behind the tyrant. Not exactly thrilled about the thought, the blue seeker reluctantly kept his thoughts to himself for sometime, being sent with his trine mates to reactivate the Energon Bridge to start creating dark energon. After this, the seeker found himself largely part of the aerial forces.
Often, he was at the head of aerial strikes against the Autobots, including surprise attacks and raids. But the violence and methods of which the Decepticons operated didn't settle well for the more scientifically inclined Thundercracker who would much rather be discovering new things and working in a lab than being a warrior. Becoming more and more unsettled by his experiences, Thundercracker wasn't nearly as quiet about his thoughts, earning the scorn of some of his fellow teammates.

Eventually when the exodus happened, Thundercracker was one of those that remained on Cybertron to be directed by Shockwave and his other superiors to hunt down and take out remaining Autobot forces. But, growing tired of trying to defend a dead planet, the blue seeker finally decided to take to the stars to find Decepticon forces elsewhere while also curiously exploring new planets he came across to indulge his scientific side. Such travels led Thundercracker to crossing life he had never seen or discovered before, slowly expanding his research horizons and causing him to draw his own conclusions about his own kind.
His travels however would bring him close to the Milky Way galaxy, picking up on nearby Decepticon signals. Curious, Thundercracker has recently been drawn to Earth to investigate the source of the signals.

Roleplay/Writing Sample:
Thundercracker was drawn to the sound of pained whimpering within the rubble. Ordinarily, the seeker wasn't the type to investigate a battle field when everything was all said and done. It was usually cut and dry, fly over, bomb the battlefield as support, then it was either advance forward or back off to let the ground forces finish everything.
But this time, it was different.
The sound wasn't normal for a Cybertronian, but rather animalistic in nature. Concerned, the blue seeker ducked under a piece of wall that had fallen from one of the nearby buildings, straining his audios to pinpoint the sound. It took a few minutes before Thundercracker finally found the source, finding a massive pile of debris against one of the destroyed buildings. Raising an optic ridge, Thundercracker raised his Thunderclap Sonic Blaster, concentrating the sonic disruptor just enough to blow away some of the debris or loosen up enough he could start digging through.
Steeping forward, he dug through the rubble, knocking aside metal plating, girders, and rock, the whimpering getting louder and louder as he dug deeper. Finally, he dug down far enough movement caught Thundercracker's attention, causing him to step back with shock as the cyber dog dug the rest of the way out, collapsing the moment it had gotten itself free. Worried, Thundercracker quickly knelt beside the robotic canine, "
Got yourself in quite the jam didn't you.
" The seekere remarked, carefully lifting the canine as he noticed one of its legs torn and twisted unnaturally and some of its body dented and scratched.
The creature definitely needed some medical attention. "
Don't worry boy, you're in good hands, I promise.
" He assured the canine that only could wag its tail weakly in response before Thundercracker gingerly took to the skies to return to base.