Wing
Apr 5, 2020 19:02:10 GMT
Post by Wing on Apr 5, 2020 19:02:10 GMT
Player Alias:
StraightOuttaIacon
Character Name
: Wing
Allegiance
: Circle of Light, Neutral
Appearance
Description
: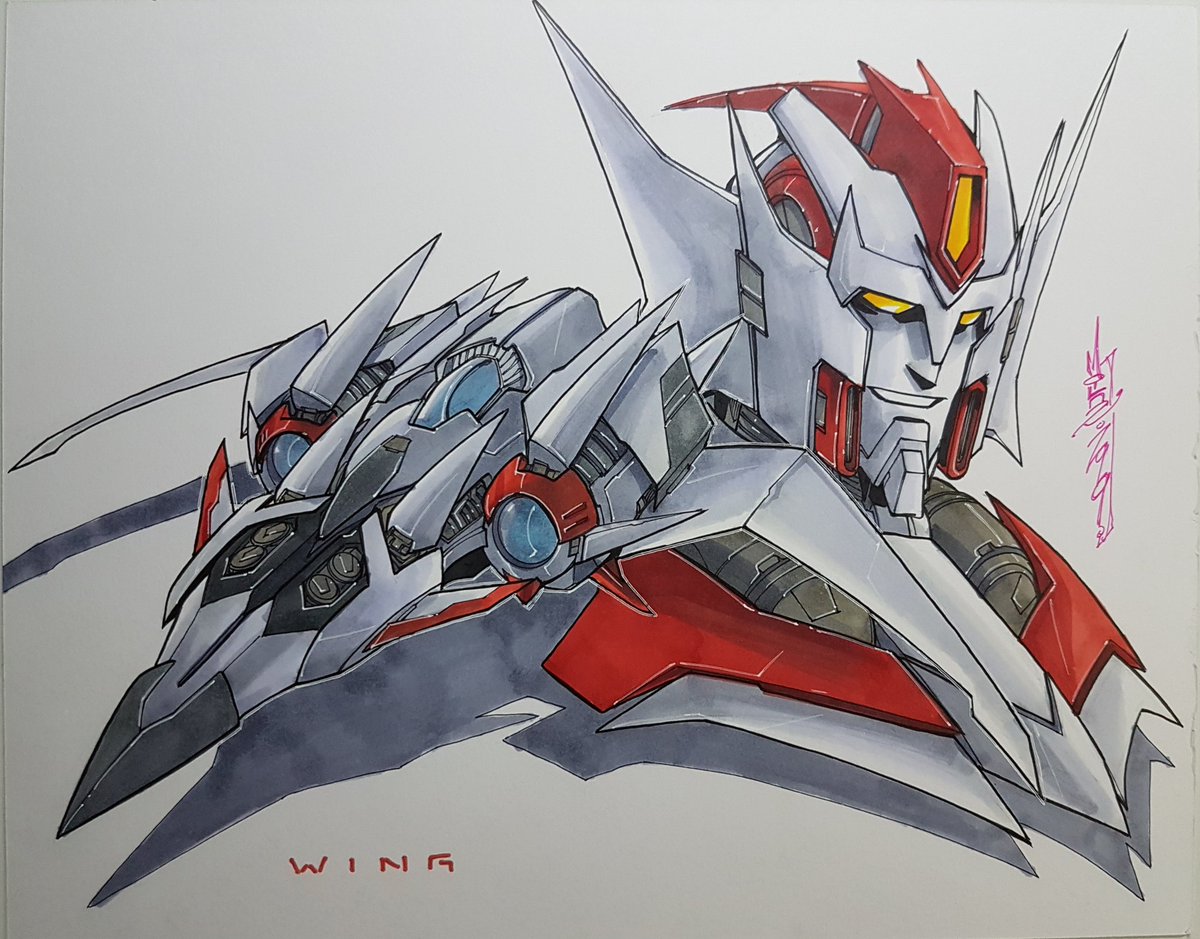 Wing is an average-sized Cybertronian, standing at about the same height as the Decepticon, Deadlock. His plating is primarily white, with red accenting spread across his body. He is a well-balanced mech, being neither bulky nor spindly, which aids in his fighting style.Wing's armor is composed of flat edges and sharp points, including finials that jut up from his helm. His faceplates are light grey and his optics and biolights bright yellow. He appears to be more accustomed to smiling than frowning, even in relatively serious situations.
Personality
:
Wing is a peace-loving bot, but, unlike his leader, Dai Atlas, he has not turned to pacifism. Combat is justified when it is for the protection of others, all out war is not. In Wing's mind, one fights for the protection of oneself and those who cannot protect themselves, and that is the mark of true strength. He holds firmly to these beliefs and knows them well enough to be able to clearly articulate them in any argument of worldview, even if that argument is within the ranks of the Circle of Light, the members of which he considers his brothers.
A bot who often clashes with his fellows concerning their preference to hide within the New Crystal City, Wing is something of a radical within the Circle. A do-gooder by nature, it goes against every fiber of who he is to leave those in need without aid. He will often venture outside the City in order to do what he can for those he comes across, even if it means fighting his way through numerous enemies single handed.
Despite his willful nature, Wing is by no means hotheaded. Every move he makes is carefully thought out. He's a skilled strategist, both in combat and in conversation. He never loses his cool, constantly retaining a calm, collected state of mind in which to operate. This ability to calmly evaluate a situation and make a judgment call also applies to people. Wing has a calming effect on most beings he meets, his gentleness combined with his self-assurance serving as a balm to the frightened and wayward.
Strengths
:
Master of his Emotions:
Wing is a very emotional individual who feels very passionately about many things, but, he is not given to emotional displays. Even if the situation is one in which his personal feelings and beliefs are challenged, he keeps a firm grip on his composure and responds calmly. His proverbial feathers are very rarely ruffled.
Charisma
: Wing has a calming presence and convincing speech pattern that could get a wavering Decepticon to switch sides. His charisma is most of the reason that Dai Atlas doesn't pitch too much of a fit when Wing decides to emulate a robotic Robin Hood, he simply talks his way out of trouble.
Zanshin
: Wing is almost always centered in himself, not just mentally and emotionally, but physically too. No movement is wasted, and no weakness left uncovered. He has trained himself to be a champion of justice and freedom, able to fight for his values to the best of his physical ability.
Stealth
: Despite being rather large and made of metal, Wing can move surprisingly quietly. He utilizes disguises to blend in with his surroundings and the terrain of an area to stay hidden. He is just as capable of staging an ambush as he is of engaging in an all-out battle.
Weaknesses
:
Bleeding Spark
: Wing is the type of bot who will take in those in need because he believes he can help them. Sometimes, this is done at personal risk.
Off Alone
: While his ventures to save others and intervene in injustice are certainly noble, they are also very dangerous. He is acting outside the will of the Circle, and backup isn't coming.
Only One Bot
: Wing is strong and a wonderful individual, but, he is just one person. He can be overwhelmed, he can be outmaneuvered, and he can be overpowered. This fatal flaw is characterized in his tendency to push on alone, even when he's outmatched. Unfortunately, oftentimes, his nobility wins out over his sense of caution.
Loyalty
: Wing is undyingly loyal to his friends and allies. They are by far his biggest weakness.
Abilities
:
Hand to Hand
: Using his own body as a weapon is something that Wing is exceptionally skilled in. Even highly trained individuals have difficulty facing him one-on-one. His tactical ability, composure in battle, and skills as a fighter make a deadly combination. He knows when to strike, when to dodge, and when to turn an opponent's strength against them and, most importantly, how to do so.
Swordsmanship
: If his hand to hand skills and smaller blades fail him, Wing, like the rest of the Circle of Light, carries a large, two-handed sword. This sword feeds upon the spark energy of the user to strengthen itself, though it does appear that this function does not need to be activated for the sword to be used. Wing is a fierce fighter with the blade, though not as fierce as he is with his bare hands.
Flight
: As a bot with a flight alt-mode, Wing has some advantages over grounders. However, his lack of range weaponry keeps this advantage strictly to speed and maneuverability.
Weaponry
:
Daggers
: Wing carries a pair of dagger-like blades that he uses in his skirmishes with the unjust. They are small and meant to be utilized in conjunction with his hand-to-hand techniques.
Great Sword
: "An ancient weapon that was passed down through the Circle of Light. These fabled swords are extremely powerful, drawing that power from their wielder's sparks through a connection born of said wielder's faith. A nexus mounted on the weapon's hilt siphons energy from the owner's spark, which then energizes the sword's blade; the stronger their faith, the more powerful the sword becomes. Because of this, the weapon is only used as a last resort, as it can potentially result in the wielder's death." (Taken from the TF Wiki article)
History
:
Not much is known about Wing's backstory. At some point, he joined with the Circle of Light and left Cybertron, driven away by the violence the accompanied the Great War. Since that time, he has operated within the Circle of Light, acting as a freelance enforcer of justice and member of the New Crystal City's governing body, the Circle itself.
Recently, Wing has pledged himself as a protector and friend to Cyberwarp, traveling all the way to Earth to ensure her safety. Unfortunately, things haven't worked out as well as they had hoped...
Roleplay/Writing Sample
:
Tracking slavers was easy, particularly when one knew where to look. A casual glance would gain nothing, but, when someone looked for the very specific footprint these types left in their wakes, they were almost impossible to miss. Fortunately, Wing had been doing this long enough to know where to look and what to look for.
Dressed in dusky brown cloth, a luxury on his home planet of Cybertron that he had found in impressive quantities on the organic planets beyond, he crept from the shadows of a rock formation, scanners carefully deployed for any nearby life forms. None so far. The slavers were keeping to their camp. Good.
With all the grace of an Earthling cat, Wing slipped into another shadow, edging his way closer. He would need to ascertain what he was dealing with before he made a move. And patience was the most important part of scouting. He knew that, the longer he was gone, the more time Dai Atlas would have to fume. Let him. Freedom was the right of all sentient creatures, and Wing could think of nothing better to do with his time than battle the injustices of the universe.
With that in mind, the warrior slunk to the edge of an outcropping, overlooking the camp. Ah, he thought, optics scanning the valley below, not so many. This shouldn't take long at all, if he did it right.